The headsail is the important front end of the sail plan and to sail efficient in all kind of wind conditions creates this a need for more then one sail in different size and shape. For cruising you managed this by using a furling genoa with some compromise regarding shape. For racing and no compromise the need also look very different depending if the headsail is overlapping or none overlapping.
Our experience and knowledge regarding headsail design goes back to mid -70. We can therefore offer proven design all from traditional large headsails to modern Jib configurations. Speak to your Hamel Sails consult and we will help you to get your next headsail to perfect performing regarding- geometry, shape, construction and fabric.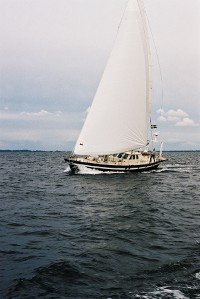 This panel layout is manly used with woven fabrics. The construction is recommended when durability is set to a first priority and suitable for small to mid size range of boats. Manufactured in many different woven constructions but also in multi-directional laminates when full radial layout is not recommended.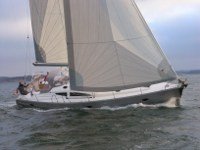 This panel layout is the choice when the demand is set for a stable shape and high performance. Suitable both for racing sails as well as performance cruising. Manufactured in high quality fabric with different type of constructions and fibres options that range from polyester to carbon.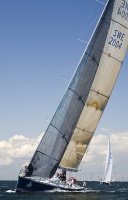 This is the no.1 choice and the ultimate in construction for racing and performance sails is the D4 Load Path Technology. D4 features yarn trajectories that not only address loads from the corner but also those concentrating at reef points. D4 offers the largest choice of fibres, including Kevlar, Spectra, Vectran and Carbon all combined to make a membrane with lowest stretch available at the market.
All headsail come with different options. Speak to your Hamel Sails consult for information and we will help you to fulfil your personal demands