This type of sail has now days become very popular both for cruising sailors and on the race course. More and more sailors have experience the efficiency in both speed and easy handling.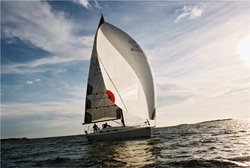 We offer for the cruising sailor to standard types. The asymmetrical Gennaker AP is in size close to a standard spinnaker. Stable and easy to trim, used without spinnaker pole and even more easy to handle when hoisted with our spinnaker sock.
Equally easy in handling is our Furling Gennaker fitted with its own furling system and hoisted like a snake. Unfurl and of you go! This is the sail that fill the gap between genoa and spinnaker. A multipurpose sail used in light winds and close haul angles down reaching and running in moderate to fresh breeze.
In the Racing Line we offer a family of asymmetrical all with different size and shape to fit boat type, different angles and wind strength. Built on our experience from small speedboats to maxi size!
Gennaker
Some of our fundamental research goes way back to Newport and Americas Cup. A desperate call from Pelle Pettersson we are so slow downwind, can you make us two new spinnakers in one week! Pelle and the crew knew that we recently had made some heavy research all to understand the complex aerodynamics. The sails where delivered in time including the extra speed! The story goes on and today the development has brought us further and we offer several types of spinnakers to fulfil the needs on the racecourse or just for pleasure downwind sailing.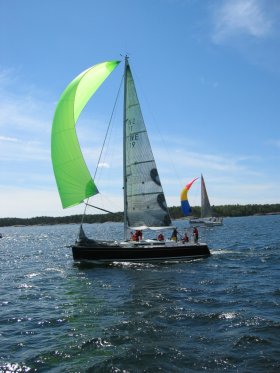 Is a stable and easy sail to trim over a wide wind range and angles.
Gives you a sail with maximum projected area to let you sail lower and faster.
Made to fit your boats polar angles and minimize your reaching angles.
Size from 100% to 70% made to be forgiving due to slow trim and rapidly change of wind angles.
The vertically depth is lower to minimize rolling downwind.